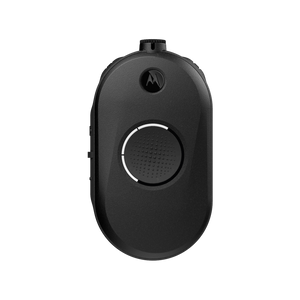 With it's lightweight design, easy push-to-talk button, crystal-clear audio and comfortable earpieces, the Motorola CLP1083e two-way radio is your stylish and essential team communication tool – built to last all day, every day in retail and hospitality.  Now your teams can connect instantly and respond quickly to address customer requests and enhance customer service.
The radios and headsets have been re-designed to be more durable so they last longer and the housing has a new antimicrobial coating to reduce the spread of germs. The batteries have a longer talk-time over the previous models (up to 18 hours).
Estimated Battery Life 18 Hours
IP Rating IP54
Channels up to 8

Transmit Power 1W 
Interference Eliminator Codes 39+ Analog and 84 Digital programmable codes
Standard Package Includes Radio, Battery, Battery Door, Charger, Holster, Earpiece
Pricing listed here is a limited ONLINE ONLY SPECIAL. In-store pricing may vary.
View Spec Sheet
Note: these new models have a slightly larger battery size which means that the batteries and belt clips are not interchangeable with older models
CLP Series business two-way radios operate on radio frequencies that are regulated by ISEDC (Innovation, Science and Economic Development Canada) in Canada. It is unlawful to operate this radio in Canada without a license issued by ISEDC (info and application included with packaging).

You may also like